NPQSL (Senior Leadership)
The National Professional Qualification for Senior Leadership (NPQSL) is designed for school leaders who are, or are aspiring to be, a senior leader with cross-school responsibilities.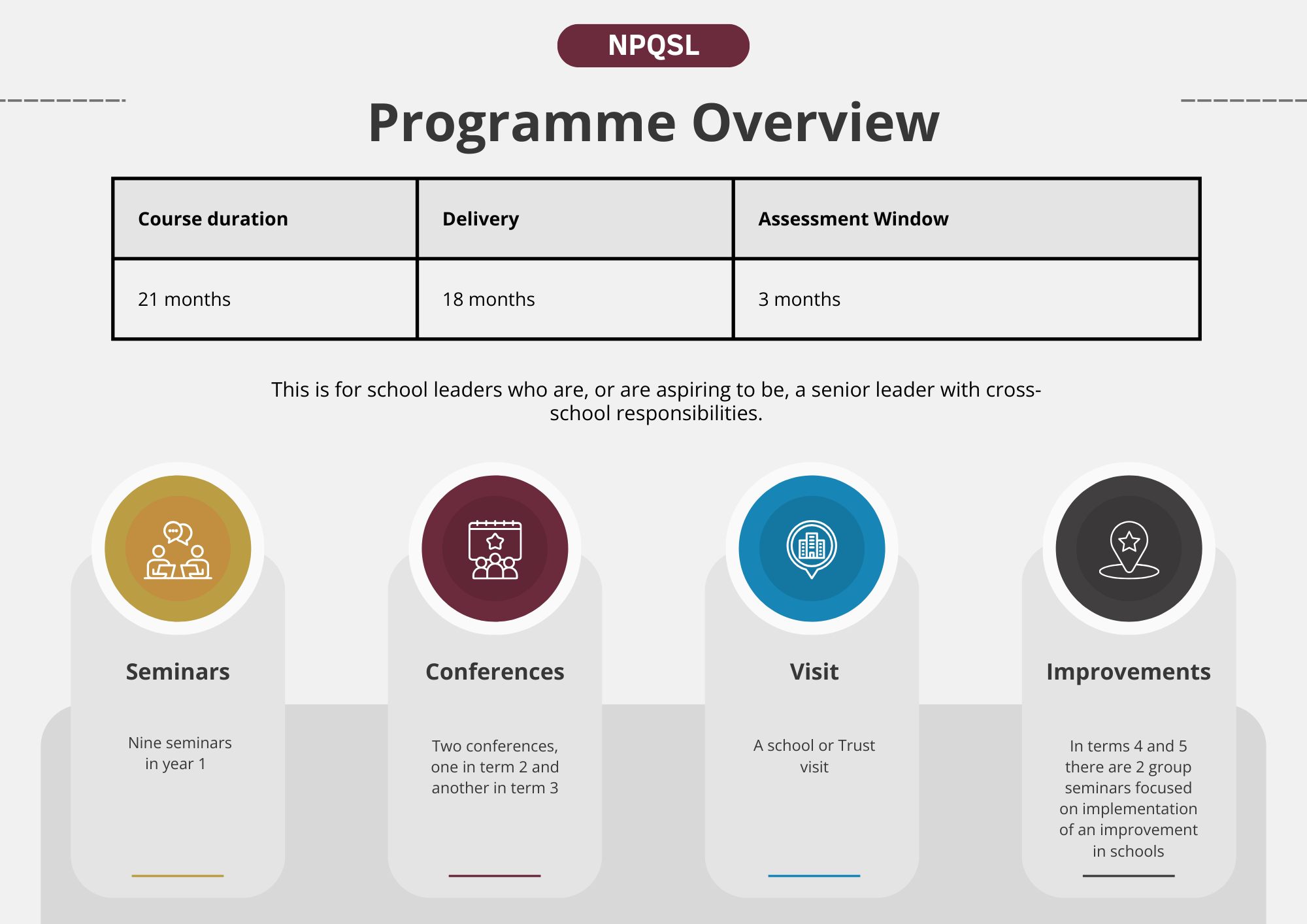 Programme Overview
Have a look at the programme overview for our NPQSL here.
Your learning experience
Each course cycle features:
evidence-based online content to refresh and build knowledge, as well as exemplify what this looks like for your role and level of leadership

a formative assessment task to support your learning

a face-to-face seminar with a group of peers, facilitated by a serving school leader or Teach First Development Lead – you'll analyse and reflect on the task and hear further examples of good practice

the opportunity to record reflections and consolidate learning
This cycle repeats throughout the programme, with implementation a consideration in every course. Towards the end of the programme, you'll also take a course focused specifically on effective implementation. This provides an opportunity to complete a significant but manageable change project as part of your role. There will be ongoing support through a seminar group and discussion forum.
What will I learn?
You'll develop expertise in the knowledge, skills and concepts for areas of cross- and whole-school responsibility related to your role. These include school culture, behaviour and professional development. Our content is informed by the best and most recent evidence and developed with input from serving school leaders and subject matter experts.
Our programmes have a practical focus. You'll be supported to make small but important changes to your and others' practice throughout the programme. This will conclude with the implementation module and practical implementation cycle of the programme.
Assessment
More information coming soon
Funding
Cost: £1,135 (Fully funded for all state schools)
Ready to apply?
Apply for a place on NPQSL for 2023/24