NPQEYL (Early Years Leadership)
The National Professional Qualification for Early Years Leadership (NPQEYL) is a completely new NPQ designed for all leaders in early years settings, qualified to at least Level 3 who are, or are aspiring to be; a senior leader with cross-school responsibilities, managers of private, voluntary and independent nurseries, Headteachers of school-based or maintained nurseries, or childminders with leadership responsibilities.
Programme Overview
We are working in partnership with The Church of England Foundation for Educational Leadership (CEFEL) and Teacher Development Trust (TDT) to deliver this NPQ locally in the East Midlands, along with our partner Flying High Teaching School Hub.
A blend of flexible online learning, online discussion, virtual workshops and face-to-face workshops, for a few hours study each week over 18 months. This is followed by an assessment where you will complete a case study assessment to demonstrate your understanding of real leadership and change.
Time commitment and course structure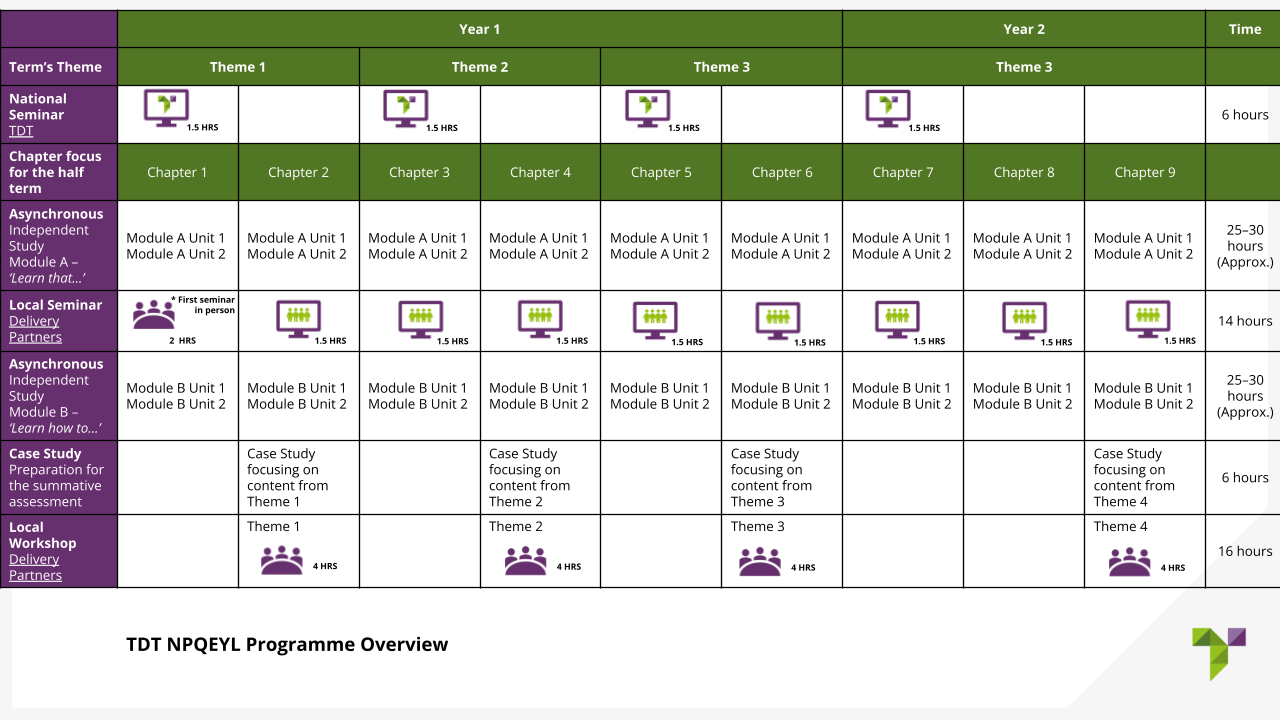 Your learning experience
This completely new Leadership NPQ has an evidence-informed curriculum design, connecting you to the latest research and best practice. Our research-rich course covers all of the core content in the government's Framework for this qualification.
It will help you to:
Develop a culture that supports sustainable improvements over time, responding to evidence on child development and effective early years practice
Support the delivery of a strong curriculum that responds to the demands of the Early Years Foundation Stage
Understand the evidence on SEND in the early years and make appropriate provision to support babies and young children to access support where needed
Support the development of all staff within an early years setting
Focus on the underpinning operational fundamentals of a successful early years setting, including leading on pedagogy, managing the nursery, managing the team, understanding safeguarding requirements and financial and business needs.
For more detailed programme information take a look at the NPQEYL Course Overview (PDF)
Programme dates
Funding
Cost: £1,149 (Fully funded for all staff in a local authority nursery in England, in a pre-school class that's part of a school in England, in a private nursery that is registered with Ofsted or as a childminder or nanny and registered with Ofsted.)
Ready to apply?