Applying for your Npq
Invest in your team's success with our NPQs.
Empower your teachers and leaders with specialist knowledge to reach new heights, whether they're seasoned professionals or aspiring leaders. Unlock your team's full potential and equip them to deliver their best with our development opportunities.
Applications are now open for places on our fully funded NPQs starting in Spring 2024.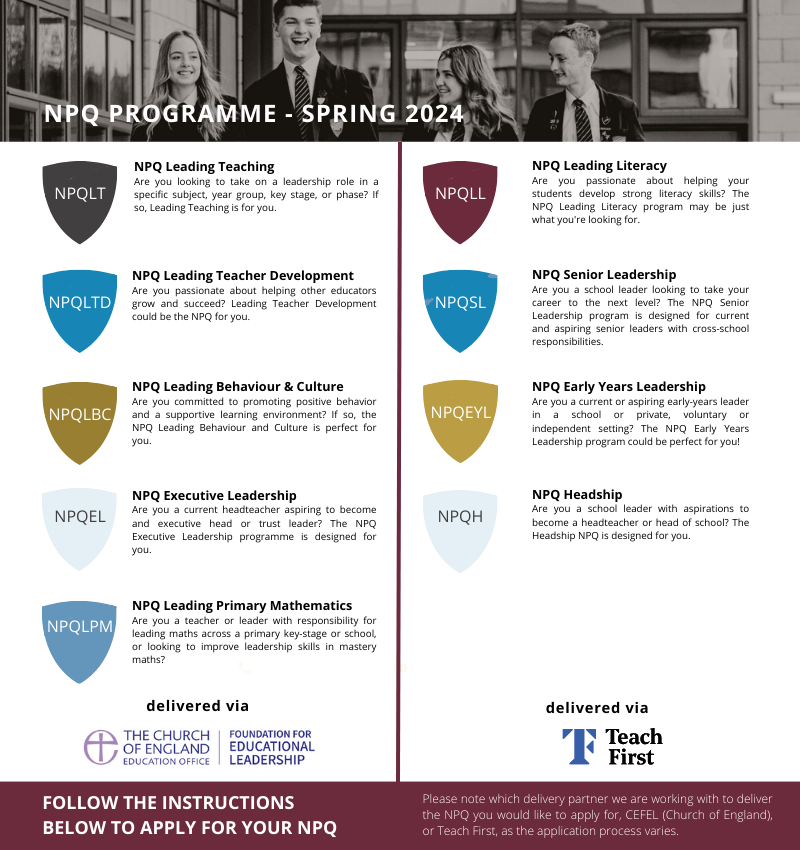 To apply for an NPQ with Redhill Teaching Hub, follow these steps.
1. Talk to your Headteacher
Your Head Teacher, Chair of Governors or SLT Line Manager will need to complete a sponsorship form acknowledging that the school supports your application and your release from school to attend the training.
If you are the Head Teacher, this can be completed by your trust Line Manager or Chair of Governors.
2. Complete your registration with the DfE
In order to apply for your NPQ and access the available scholarship for your school to fund the NPQ, you will need to register your application with the DfE. You will need your Teacher Reference Number (TRN) to register. If you don't have your TRN, but you work in a school in England, you can apply for a TRN here.
Click here to register with the DfE
When prompted to select the NPQ provider, select:
Teach First if applying for NPQH, NPQSL, NPQLL or NPQEYL.
CEFEL if applying for NPQEL, NPQLTD, NPQLT, NPQLBC or NPQLPM.
When applying for a specialist programme with CEFEL you will be asked to select your area / Diocese. Please choose East Midlands, Area 6 Nottinghamshire: Redhill Teaching School Hub.
3. Complete the application form
Once you have registered, you will receive an application form. Please answer the questions in as much detail as you can, as the most common reason for applications to be rejected is brevity of response. We suggest giving yourself at least 20 minutes to complete the form, and providing a minimum response to each question of 50 words. This information helps the Lead Provider assess your suitability for the course selected.
You will receive the application form via email once your DfE registration has been validated.
4. Sign and return your NPQ Contract
For applications through CEFEL, your Headteacher will automatically receive a sponsorship form which must be completed in order to complete your application.
For applications through Teach First, once your application form is accepted, a contract will be sent to you. This should be co-signed by your head, line manager or chair of governors.
If you need any support with your application process, or help deciding which NPQ is suitable for you, please get in touch.
Redhill Hub NPQ Programme Lead, Laura Candlin, is available Tuesday to Friday at npq@redhillhub.org.uk or 07831324490, or you can contact the Redhill Hub team at enquiries@redhillhub.org.uk.