NPQLTD (Leading Teacher Development)
The National Professional Qualification for Leading Teacher Development (NPQLTD) is for teachers who have, or are aspiring to have, responsibilities for leading the development of other teachers in their school. (e.g. CPD Leads or ECF mentors).
Programme Overview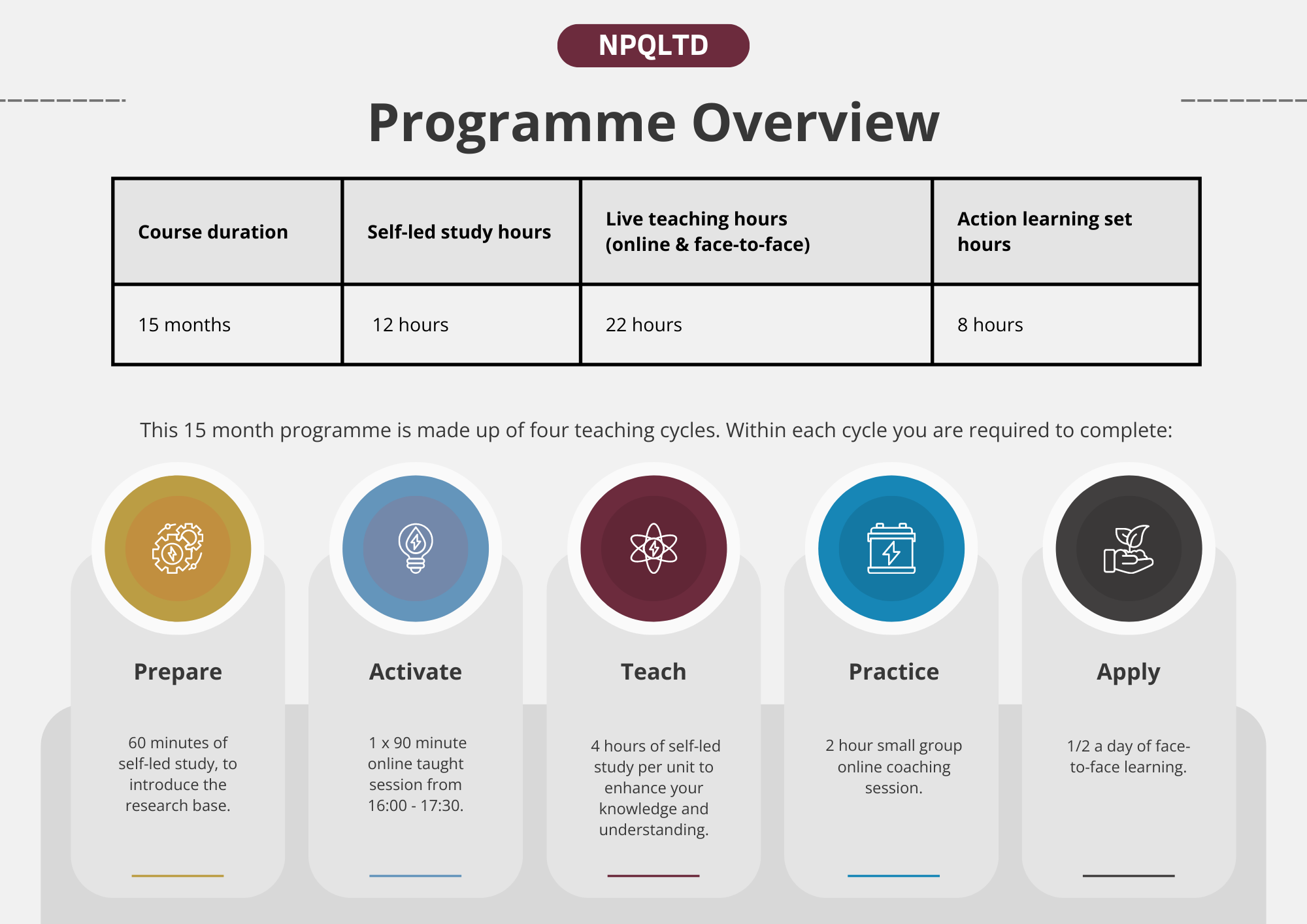 Teaching cycles
Throughout the course you will cover:
Teaching Cycle 1: Teaching
Teaching Cycle 2: Designing effective professional development
Teaching Cycle 3: Delivering effective professional development
Teaching Cycle 4: Implementation
Your learning experience
Across the programme you will take part in 4 teaching cycles. Across these phases you can expect to learn through:
- Reading course materials and recommended texts
- Virtually delivered webinars
- Break out room discussions
- Online group discussion forums
- Listening to podcasts
- Watching video content
- Listening and note-taking
- Examples and discussion with experienced school leaders
- Expert coaching in a small group
- Skills practice within a small group
- Researching
- Reflection and journaling
For more detailed programme information take a look at the NPQLTD Course Overview (PDF)
Programme dates
Assessment
In order to successfully complete NPQLTD you will need to demonstrate at least 90% attendance at both Activate and Apply sessions.
You will also need to pass the summative assessment which takes place at the end of the programme. The summative assessment takes the form of a case study review and is completed as an open book assessment over an 8-day window. To pass you will need to achieve a mark of 60% of above.
Further information about assessment will become available throughout the course of your NPQ programme.
Funding
Cost: £890 (Fully funded to all state schools)
Reading to apply?
Apply for a place on NPQLTD for 2023/24
"I felt a little apprehensive before starting the qualification, but it really clarified my thinking and my understanding of the research. It was great to connect with other professionals in the same situations and share our understanding and prior experiences. I have been able to share my learning with my colleagues and engage more confidently in conversations relating to school development and teacher development."
NPQLTD participant - June 2022