Jake's starring role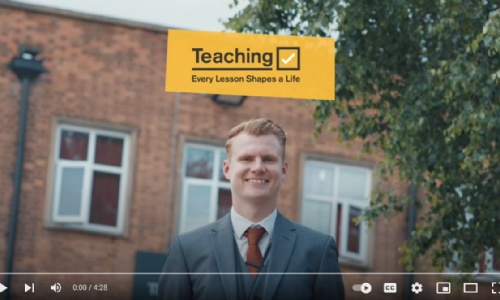 Newly qualified History teacher, Jake Athorn, is the star of a new video from the DfE which aims to inspire people to get into teaching.
Jake, 23, who works at The Redhill Academy, trained to teach through the Redhill SCITT.
He took part in the film shoot earlier this year with a film crew following him on a typical school day. Jake's passion for teaching is evident as he is seen teaching his subject in the classroom and chatting with pupils at break time.
In the short film, Jake explains how he had always wanted to teach and that this became clearer while he was at university. He also praises the training he received during his Initial Teacher Training, saying it gave him belief and confidence.
Jake said: "The biggest thing that teacher training gave me was the belief that I could do this. It gave me the confidence that I was the expert at the front of my classroom, I knew my topic and I knew where the children needed to be."
Jake goes on to talk about his first day at Redhill, the warm welcome he got from departmental colleagues and how much he enjoyed meeting and teaching his first class.
Anyone looking to get into teaching should 'really love their subject', says Jake, which will transfer over to the pupils and means that they will trust and believe in you.
Hear more about why Jake chose to teach in the Get Into Teaching video:
Discover more about our Initial Teacher Training programmes and placements HERE