Inclusion starts with 'I'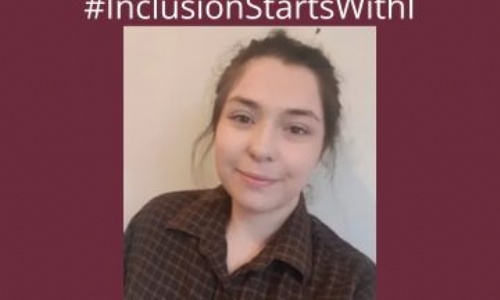 Carina Jolly, Chemistry trainee shares her experiences of the 2022 #InspiringDiversity Conference
Diversity, Equity and Inclusion day
Four of the most important days in our teacher training year have to be our "Diversity, Equity and Inclusion" days. I promise, Adam has not paid me to write this… Amongst the entire 21/22 cohort of Inspiring Leaders, I had the absolute pleasure of listening to several amazing speakers, talking all things diversity. Welcoming us to NTU for the day, was our own Adam Brett who introduced us to a quick video on diversity (#InclusionStartsWithI). If you want to watch it again and review those statistics, I definitely recommend doing so… with a pack of tissues.
Kicking off the day, we had the amazing Claire Birkenshaw, a Childhood and Education lecturer at Leeds Beckett University. Claire explained so succinctly what DEI is, why it is important and most of all, what our role as educators is, when it comes to DEI. I cried and I was left speechless, in absolute awe of this keynote speech. The passion for being an educator rang throughout Claire's speech and has fueled a spark in me to make sure I do better and make a difference, for the students in my care.
Women in Education Workshop
After a small break and a caffeine top up, I made my way over to the incredible Azuraye Williams' "Women in Education…" workshop. Azuraye is a primary school teacher and also the PE, Science AND DEI lead at her school. It was lovely to share a room with several other women who are embarking on this role as an educator. While the statistics here were no better than earlier, I am proud to belong to a cohort that recognises the statistics and who, at the heart of things, want to see a change. Something I am looking forward to implementing in my life is breaking those gender stereotypes we see in education -the day before I observed a year 7 class doing an intro to science class drawing what they thought a scientist looked like… 3 of them were female. In following lessons, we plan to introduce them to many female scientists.
Unpick, disrupt and be steadfast.
Fast-forward to the afternoon and I find myself at the workshop of Dr Adam Brett – previously Redhill SCITT lead. During his workshop "LGBTQ+ inclusion in classrooms" I wrote pages of notes, resources and networks that help the LGBTQ+ community. My takeaway from Adam's workshop is to unpick students behaviour, to disrupt the narrative, be steadfast and to share the positive stories. So many of the stories told about the LGBTQ+ community are negative, and it could be much more harmful to only show that side. In his talk, Adam said, "Recognise the difference you make in your classrooms", something I truly find to be at the heart of the reason why I wanted to become an educator. To BE the change and difference for the future generation of students. To do this, we must be able to provide security and safety to the students we teach. It is through routine and trust we are able to so.
Our Q&A panel with all speakers really allowed us to have an insight to the workshops we missed – If only we were all given time turners to see all the workshops! In answer to a question on how to deal with situations of being upset/offended, Shonagh Reid, DEI consultant, gives such a succinct solution – take time to do things on your OWN terms, challenge the situation when YOU are ready and always go in with a solution. This is something I plan to use in my every-day life, not just in school as an educator.
I'll leave with my pledge; six points I have taken from across the day:
Show humanity

Promote understanding

Challenge prejudice

Be Inclusive

Foster positive relationships with every student

Make a difference. Every day. #InspiringDiversity
Carina Jolly, Chemistry trainee