NPQLL (Leading Literacy)
The National Professional Qualification for Leading Literacy (NPQLL) is a completely new NPQ designed for those who are leading literacy programmes across a school, year group, key stage or phase, or who are aspiring to such roles in the future.
Programme Overview
We are working in partnership with The Church of England Foundation for Educational Leadership (CEFEL) and Teacher Development Trust (TDT) to deliver this NPQ locally in the East Midlands, along with our partner Flying High Teaching School Hub.
A blend of flexible online learning, online discussion, virtual workshops and face to face workshops, for a few hours study each week over 12 months. This is followed by an assessment where you will complete a 1500-word case study assessment to demonstrate your understanding of real leadership and change.
Time commitment and course structure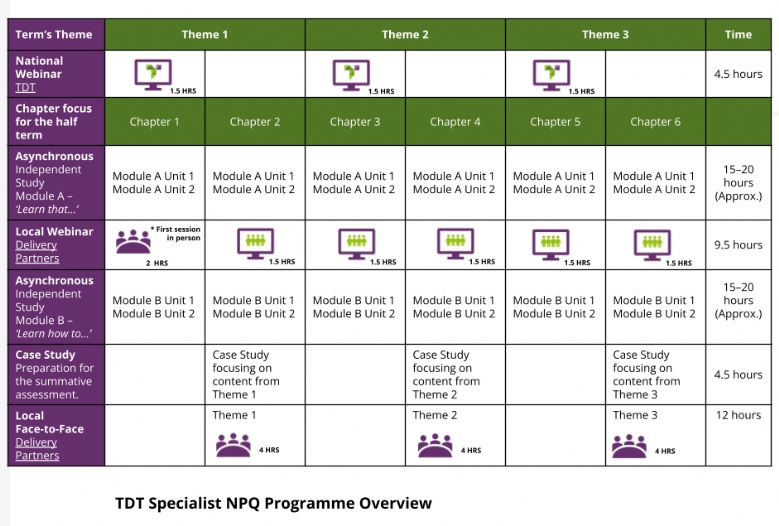 For more detailed programme information take a look at the NPQLL Course Overview (PDF)
Your learning experience
This completely new Specialist NPQ has an evidence-informed, research rich curriculum design connecting you to the latest research and best practice.
It will help you to:
Understand how to effectively develop pupils' language, reading and writing skills
Implement effective strategies to improve pupils' outcomes in literacy
Professionally develop others, creating change and supporting school culture
Funding
Cost: £899 (Fully funded for all teachers who work in state-funded schools and state-funded 16-19 institutions in England.)
Ready to apply?
Apply for a place on NPQLL for 2022/23